AGITATION FREE - Portrait of a Band
Early Days
The story begins in 1965. At the beginning of that year, Lutz "Lüül" Ulbrich and Christoph Franke (who was still playing drums at the time), inspired by the Beatles, formed a group they called the The Tigers (later the name was changed to The Sentries). At the same time my friend Lutz "Ludwig" Kramer, I, Michael "Fame" Günther, and a few others formed a rock band, mostly playing R&B covers. These groups - high school bands, really - were active until about the end of 1966.

· The Year 1967
Lüül, Christoph and I attended the Waldschule in the Charlottenburg section of Berlin. We inevitably saw each other often. When, at the beginning of 1967, I heard that the Sentries had let their bass player go, I offered to help out.
When my band also lost some members, we decided to join forces. That would be about September or October 1967. The new group consisted of "Lüül", Christoph, Ludwig and myself, as well as occasionally a singer named Michael Duwe, and remained nameless for the time being.

Rehearsal at Karolinger Platz, Berlin-Charlottenburg 1967
from left to right Michael Duwe, Lutz Kramer, Lutz Ulbrich, Christoph Franke, Michael Günther
Photographer unknown for further informations please click-on the faces

As part of the merger we inherited the Sentries' roadie, Roland Paulick (if you could call him a roadie - he was hardly ever present when something had to be lifted or plugged in!). He was more a good friend, and above all, a good organizer. He seemed always able to procure anything the band required in the shortest time possible. He made a few stabs at establishing a trucking company, which invariably failed, and eventually ended up as Tangerine Dream's roadie.
Folke Hanfeld, the brother of the former Sentries' bassist, was also a friend and mentor to us. He is also pretty much responsible for coming up with our band name: he opened the dictionary one day and pointed his finger at random. It came to rest on the word "agitation", defined as "movement, unrest, change". Considering that definition, we felt it to be an eminently appropriate band moniker ... and so henceforce referred to ourselves as "The Agitation". Folke got deeply involved in light shows, film, and mixed-media. Inspired by him, towards the end of 1967 we began working with wet gel projections, slides, and self-made 8-mm films.
As for the music: at that point we were still doing cover versions - songs from outside composers and singers. Musically, fairly unsatisfying. Only in the improvisiational passages that we managed to insert into nearly every piece did we find unmitigated enjoyment. I remember a Rolling Stones number, "2120 South Michigan Avenue" I think it was, that we loved. According to our mood on the day, our version would tend to run longer and longer. A friend of ours named Rolli stood at the side of the stage, stopwatch in hand, giving us frantic hand signals: ten minutes, twelve minutes, or even more - he was nearly jumping up and down with excitement! We even stretched it out to twenty minutes one time. Boy, those were good times! Once Ludwig joined a rehearsal and started to improvise this famous masterpiece from the opera Carmen. His mother (opera-singer) had rehearsed it before at their home. This seems to be the date of birth for our improvisations, the theme "carmen" was used on all our further concerts we played with Ludwig.
That was how we had fun: stretching out the songs and above all, improvising new parts. This was different to most of the records we were hearing those days.
· The Year 1968
At the beginning of 1968 Ludwig was abruptly fired after an argument about the musical way, he wanted to stay with absolute free improvisation, we wanted to compose partly and such make peaces repeatable. He was replaced by a guitarist named Eckhart Kühn, who stayed with us for about three months. Then we realized that we needed Ludwig back, and got him to rejoin the band.
Shortly thereafter Ludwig and I met Volker Cornelius. Volker was a flipped-out architecture student living in a tiny storefront near the Berlin-Charlottenburg elevated train station. Like Roland Paulik he was an organizational genius, and soon became a kind of political guru to us. He assumed our management, took incredibly good photos, and printed posters and admission tickets. Through his connections we became the house band in Berlin's first underground club, the "ZODIAC". At this time Michael Hoenig was already part of the "scene" as a co-editor of the underground newspaper "LOVE".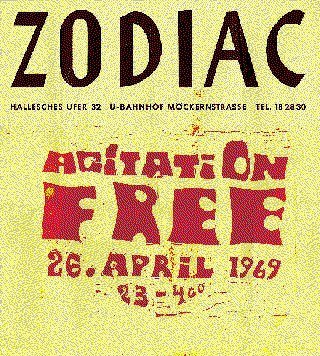 In the ZODIAC club we got to know the bands Cluster, Curly Curve and Tangerine Dream, whose onstage performances alternated with ours. When the ZODIAC had to close due to it's resident drug scene, we relocated to the "Beautiful Balloon" on the Lehniner Platz (formerly the home of the "Kabaret der Komiker", the "Comedians' Cabaret"). We had a wonderful tenure there, often playing until the early hours of the morning; this naturally meant trouble the next day in school, when we could hardly keep from falling asleep in class!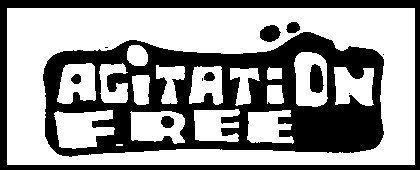 Admission ticket to the Beautiful Balloon
Folke Hanfeld had made substantial contributions to the Beautiful Balloon light show, and had already hatched the idea of "Intermedia", a mixed-media show. More about that later.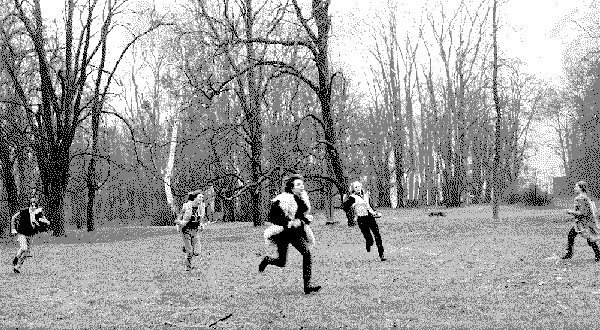 The band cavorting in the Glienicker Park
Photo byVolker Cornelius
(click)

By mid-1968 we had discovered Pink Floyd, and were using some of their musical themes as points of departure for our own improvisiations. About this time, in another Berlin underground club, the "SUN", Ludwig and I met a flute-playing, red-haired, shaggy-maned, flipped-out guy: the legendary "John L" (real name Manfred Brück), crowned "the Hippy King of Berlin" by the local tabloid press. We brought him along to a rehearsal, and from then on he was our singer. Mainly he played his mouth-drum or spit crazy sounds out of his mouth. Besides that he manly was stoned so we split after a short time.
· The Year 1969
Actually, he couldn't sing a note. But somehow his flipped-out stone craziness made up for it: he would appear in concert naked, with his penis painted, or let himself be whipped with a belt onstage by his friend Karl-Heinz Pawla.(Also a lunatic: once, during a Legal proceeding, Pawla answered the call of nature by taking a crap on a courtroom table, using his legal brief as toilet paper. - Transl)
Around this period we had heard about a band from the north of Berlin who were playing under the same name, "Agitation". A fortuitous coincidence one night in Berlin's "Quasimodo" club provided a solution. It was pretty much a "test gig", so we were playing for free that evening. Underneath the name "Agitation", written in chalk on the Quasimodo's door, was scrawled word "FREE", meaning no cover charge. A splendid juxtaposition! - we decided then and there to change our name to "Agitation Free". The name-change spurred John L. on to (literally) new heights; he wasn't able to resist swinging from a ceiling lamp, which couldn't bear his weight and sent him crashing down on the table of a puzzled couple in an explosion of broken glass and beer. Of course, after that we were not allowed to show our faces in the Quasimodo for a long time!
John L. was on a completely different trip as the rest of the band; he was the first to get involved in hard drugs, and consequently was fired in the fall of 1969. Sometime later he resurfaced with the group Ash Ra Tempel, and still later had his own band, Scarecrow.
In mid-1969 Ludwig moved out of his parents' home and into a urban commune, the Kommune I, sharing a ground-floor apartment with Karl-Heinz "Kalle" Hausmann, a future member of Amon Düül. At about the same we had a rehearsal room in the cellar of Christoph Franke's mother's house in Berlin-Eichkamp. But we were getting too loud for her, so we appealed to Rainer Langhans to let us practice in the Kommune I. It was situated in an industrial courtyard in the Stephan Strasse in Berlin-Moabit, so our volume would not be a problem.
Rainer loaded our gear from the rehearsal celler in Eichkamp into his VW bus, and "Kalle" Hausmann and Ludwig divided up a room in Kommune I, and set up Agitation Free's equipment.
We subsequently had the dubious pleasure of getting to know Uschi Obermeier und the group Amon Düül. We never were reimbursed for the drumskins of ours that they managed to thrash to death during their stay in the commune!
We had our first gigs in West Germany a short time later, in two underground clubs in Frankfurt und Darmstadt. Both clubs belonged to the same owner, who also paid us quite well. We picked up some fans in Frankfurt, who followed us to Darmstadt for the appearance there.
At the end of 1969 Christoph's mother arranged something interesting for us. She was a violin teacher with good contacts to the classical world. During a conversation one day with Konrad Latte, the director of the Volksmusikhochschule (public city music college) in Berlin-Wilmersdorf, she learned that he had money left over from the purchase of a grand piano, with which he intended to create and subsidize a new rock group under the auspices of the college. With great tact and patience Frau Franke convinced him to instead invest the money in a band that already existed, namely us. He assented, and plans were made for a rehearsal room to be converted into a recording studio. A music teacher would be hired to supervise things. This teacher would be Thomas Kessler, and soon Agitation Free was a fixture of the Volksmusikhochschule. Ash Ra Tempel and Tangerine Dream followed us there a short time later. We became great friends with "Tommy" Kessler and set up the studio together: the legendary "Beat Studio" on the Pfalzburger Strasse in Berlin-Wilmersdorf.
see press clipping
Folke Hanfelds "Intermedia" was launched in the winter of 1969. It was to be multi-media show with all the trimmings, and in fact Folkes used it for his A-Level thesis in his major of art. We chose the auditorium of the Waldschule in Eichkamp as the location, it being the only place we could get for free for a whole month in advance of the show. We needed that much time for preparation, as the stage sets were immense: Agitation Free was to play inside a huge box covered with transparent cellophane, upon which slides and films would be projected. Canvas screens were affixed to the walls and ceiling, also for film, slide, and liquid gel projections. A wall of television sets was erected; in front of the TV sets discs powered by tiny electric motors constantly rotated. Numerous tiny holes had been punctured in these discs, resulting in constantly shifting patterns. The floor was covered with half-inflated truck tires, and live mealworms and ants, slowly melting under the heat of a projector's lamp, could be seen by the audience on one of the screens. It was a gigantic Happening!
The first performance (this we had to promise in advance), was only for teachers, the director, and invited guests. The chaos began the following day with the second performance. At least 1500 people turned up for the show, although the hall could only seat 400. Outside the auditorium a state of siege prevailed - now and again attempts were made to "storm the barricades". Was the school director (and my French teacher) Herr Riemer ever cross!
After one hour he decided that everything was too loud, and had the power turned off. What a mistake: he was pelted with tires and needed a police escort to leave the premises. After "Folkes Intermedia" the Waldschule fell into a deep slumber, and no more such events were staged. Pity. A repeat performance was for us out of the question - it would have cost too much. Only our poor mealworms were able to (reluctantly?) appear in an encore performance a few weeks later in the Audimax auditorium of the Berlin Technical University, on December 12, 1969. Paul & Limpe Fuchs, Tangerine Dream, Amon Düül, and Agitation Free were on the bill. For the first time we brought a shortwave radio onstage, in order to add an element of unpredictibility to our improvisiations (Thomas Kessler's idea.) In an article shortly afterwards, a journalist took enormous offense to the maltreatment of our mealworms - this at a time when a war was raging in Vietnam!
On November 29, 1969 we gave a concert in the Audimax of the Technical University, for a group formed around Bommi Baumann called the "Zentralrat der umherschweifenden Haschrebellen" ("Central Council of the Free-Roaming Hashish Rebels"). The gig reflected those turbulent times; by the time it was over, a janitor had been locked up in the doorman's booth, the police had arrived, and an invocation had gone out from the stage to occupy (squat in) a vacant building. Stormy times!
Because of the name of the band and probably because of the music, the band has been an underground-band and a band for the non-parlamentaric opposition. we tried to overcome borders between listeners and the band. When the audience shouted "Ho Ho Ho Tchi Minh" rhytmically, we took over the rhythm and improvised a song together with our audience. On smaller gigs we supplyed the audience with musical instruments, that they could play with us. We played how we felt and made the loss of system to our system!
· The Year 1970
By 1970 the "Zinnober", the Berlin students' annual February carnival, had already nearly become a commercial event. A counter-event entitled "Inis Reise" was being held in a building near the Zinnober site. The promoter was, I believe, one Klaus Freudigmann; he had worked with Cluster and Conny Schnitzler, had produced a record with the band Ton, Steine Scherben, and was later a member of Eruption. So, after playing from eight to eleven p.m. at the Inis Reise (the "anti-Zinnober"), with bag and baggage, Thomas Keyserling, and the resurrected John L. in tow, we moved one door down to jam at the Zinnober as the exotic, rebellious and misunderstood Agitation Free. And that three days in a row!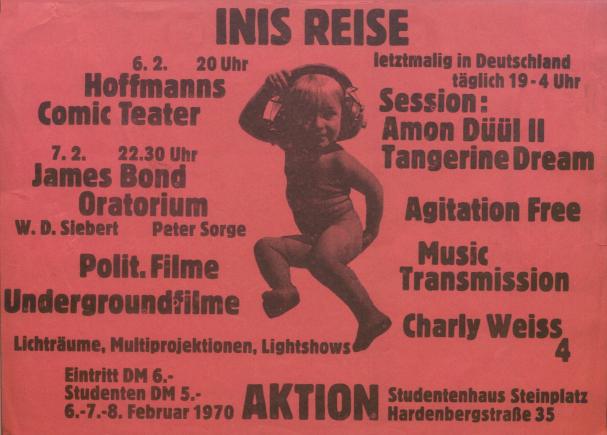 Inis Reise poster
We got to know Charly Weiss here. He was a good drummer with incredible equipment and much empathy. He and Christoph held a one-hour drum clinic during a concert; there must be a mono recording of this somewhere in Berlin, but unfortunately we couldn't locate it.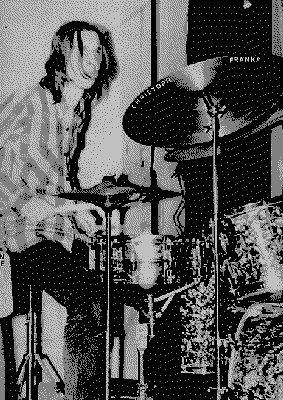 A photo of Christoph from the Berlin press, 1970
Photographer most likely Klaus Achterberg
We decided to persuade Charly to play with us as soon as the opportunity arose (which it did, on April 12, 1970). Previously we had had a change in the band's line-up. After an argument between Ludwig and myself at the end of March, the band was forced to choose between us. They chose me. Perhaps impelled by a guilty conscience, I came up with a substitute for Ludwig : guitarist Axel Genrich, who we already knew and who was available. We quickly composed a couple of new pieces, and performed with Axel und Charly on April 12, 1970 in the Berlin Sportpalast at the "First German Progressive Pop Festival".
At the end a little explanation why Ludwig had to quit the band: At the age of 17 he left his home for the community K1 and politics became more and more his life. He prefered going to a demonstration instead of rehearsing. At the same time drugs where also more important to him. Sometimes we had to rehearse without him, because he did not show up. One day he was late for a concert, so we had to say goodbye to our old buddy and frontman, also we went different ways concerning the music. Later he joined the Berlin Art-Rock band Walpurgis.
---

---
Copyright (c) Agitation Free. All rights reserved.

Impressum / disclaimer