Amon Düül
- communal music collective from Munich, eventually split into Amon Düül I and Amon Düül II. Amon Düül I soon dissolved. Most famous member of Amon Düül II: German photo model Uschi Obermeier.
---
Ash Ra Tempel
Also known as Ashra or Manuel Göttsching since 1977
formerly Steeple Chase Blues Band - Manuel Göttsching guitar, Hartmut Enke bass, Volker Zibell mouth-harp, Wolfgang Müller drums

Road manager, manager, and important friend of the band, Klaus D. Müller
Members:

Manuel Göttsching guitar, Hartmut Enke bass, Klaus Schulze drums, also Ronald Bosien for a time on drums (later with Morgenrot ), Wolfgang Müller drums, John L. vocals, Matthias Wehler alto sax, Uli Popp bongoes, Steve Schroyder organ ( Tangerine Dream ), Michael Duwe vocals, Dietmar Burmeister drums, Jürgen Dollase keyboards, Harald Grosskopf drums, Rosi Müller vocals, Lutz "Lüül" Ulbrich guitar, keyboards
Ash Ra Tempe l is the band closest to Agitation Free. We shared rehearsal space and a lot of personal experiences, and remain in close contact to this day.
Discography (selections):
Ash Ra Tempel Ash Ra Tempel 1971
Schwingungen Ash Ra Tempel 1972
Seven Up Ash Ra Tempel 1973
Join Inn Ash Ra Tempel 1973
Starring Rosi Ash Ra Tempel 1973
Le Berceau de Cristal Ash Ra Tempel 1993 Film-Musik
Discoveries Ash Ra Tempel 1989
Blackouts Ashra 1977
Correlations Ashra 1979
Belle Alliance Ashra 1980
Walkin´ the desert Ashra 1990
As well as various others under pseudonyms such as the Cosmic Jokers, Die Dominas (with Claudia Skoda and Rosie Müller), etc.
---
Guru Guru
Members: Uli Trepte bass, Mani Neumeier drums, Hans Sachs vocals (original line-up)
Guitarists in order of their appearance in Guru Guru:
Eddy Nögeli, Jim Kennedy, Axel "Ax" Genrich , Houschäng Nejadepour (Eilif), Conny Veit (Gila), Sepp Jandrisits, Roland Schaeffer (Brainstorm), Dieter Bornschlegel (Atlantis), then Roland Schaeffer again.
Bassists in order of their appearance:
Uli Trepte, Bruno Schaab, Hans Hartmann, Jürgen "Jogi" Karpenkiel (Kollektiv), Peter Kühmstedt, Hellmuth Hattler (Kraan), Gerald "Luciano" Hartwig ( Karthago ).
Keyboarder Ingo Bischoff ( Karthago ) played occasionally (1977).
Occasional second drummer, Wolfgang "Butze" Fischer (Embryo).
Occasional percussionist, Tommy Goldschmidt ( Karthago ).
Further recording sessions with members of Cluster , the entire group Kraan , and others.
Guru Guru is actually Mani Neumeier . Somewhat of a genius, his unique qualities shone through a constantly shifting line-up. We liked him very much and had a warm friendship. He took part in the Agitation Free " Final Reunion " goodbye party. We often saw Guru Guru at festivals, and visited them (even stayed overnight at times) at their home in Heidelberg, West Germany.

Discography:
UFO 1970
Hinten 1971
Känguru 1972
Guru Guru 1973
Don´t call us, We call You 1973
Dance of The flames 1974
Guru Guru Mani und seine Freunde 1975
Tango Fango 1976
Globetrotter 1977
Guru Guru Live 1978
Der Elektrolurch Sampler
This is Guru Guru Sampler
---
The Tigers
Members:
Lutz Ulbrich g, Christoph Franke dr, Peter Preis g
Berlin Waldschule school band 1966 - 67.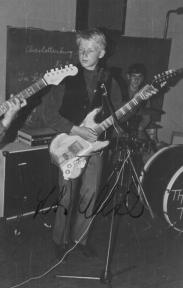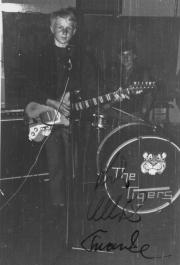 Lüül and Christoph with the school band the Tigers ca. 1966
---
The Sentries
Members:
Peter Preis g, Siegfried Matwin voc, Lutz Ulbrich g, Christoph Franke dr, Klaus-Jürgen Niemitz b
Berlin Waldschule school band 1967 .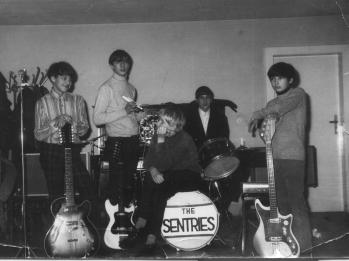 the school band The Sentries ca. 1967. from left to right, Peter Preis, Siegfried Matwin, Lutz Ulbrich, Christoph Franke, Klaus-Jürgen Niemitz
---
Os Mundi
Members:
Ludolf Kuchenbuch tenor and soprano sax, Klaus Henrichs baritone and alto sax, Dietrich Markgraf flute, Raimund "Mikro" Rilling cello and violin, Udo Arndt guitar and vocals, Christoph Busse drums and vocals, Buddy Mandler drums and vocals, Andreas Villain bass, later also Ute Kannenberg (had performed previously as Schlager -singer Tanja Berg). Also temporarely Wolfram Jakob perc, Bernhard Arndt p

Os Mundi was Berlins first "rock big band". It grew out of a group called the Safebreakers (1962 - '66). Unmistakable though early use of two drummers. Agitation Free was well connected with Os Mundi; we shared a rehearsal room with them for over a year in the Paul-Linke-Ufer in Berlin-Kreuzberg. Beyond that, I, "Fame", spent years as a roommate of Udo Arndt on the Bayernallee in Berlin-Charlottenburg. Jam sessions took place with Manuel Göttsching ( Ash Ra Tempel ), Buddy Mandler, Ludolf Kuchenbuch and myself, "Fame", among others. Several Os Mundi members have become notables in the German music scene. Udo Arndt is a recording engineer and producer (Nina Hagen, Nena), Christoph Busse as well (Hans Hartz, Stefan Waggershausen, the German version of T.V.'s "Sesame Street"); Ute Kannenberg is a jazz presenter in radio. Os Mundi was succeeded by Tequila Sunrise , consisting of Tom Hildebrandt drums ( Mythos , Metropolis ), Michael Westphal bass ( Zahatustra , Metropolis ), Udo Arndt guitar and vocals, Manfred "Manne" Opitz keyboards and vocals ( Zahatustra , Metropolis ), and Ute Kannenberg vocals.

Discography:
LPs
Latin Mass 1971
43 Minuten 1972
---
Tangerine Dream
Members: Edgar Froese guitar, Kurt Herkenberg bass, Lanse Hapshash drums, Volker Hombach violin and flute (original line-up 1967)
earlier known as "The Ones"
later members:
Konrad "Conny" Schnitzler electronics, Sven Akke Johansson dr, Klaus Schulze dr, Christoph Franke , synth, Steve Schroyder org, Hans-Peter "Hanne" Baumann synth, Michael Hoenig synth, Steve Jolliffe fl, Klaus Krieger dr, Johannes Schmölling synth and others.

Discography (selections):
LPs and CDs
Electronic Meditation 1970
Alpha Centauri 1971
Zeit 1972
Atem 1973
Green Desert 1973
Phaedra 1974
Rubicon 1975
Ricochet 1975
Stratosfear 1976
Encore 1977
Cyclone 1978
Force Majeure 1979
Tangram 1980
Box-Sampler "70-80" 1980
Exit 1981
Pergamon 1981
White Eagle 1982
Logos 1982
Hyperborea 1983
Poland Live 1984
Le Parc 1985
Dream Sequence 1985
Underwater Sunlight 1986
The Collection 1987
Tyger 1987
Live Miles 1988
---
Cluster
Also spelled "Kluster"
Members: Konrad "Conny" Schnitzler synth, Dieter Moebius synth guitar, Hans-Joachim Roelius keyboards and guitar (original line-up)
After the group (established in 1969 ) broke away from Conny Schnitzler , he initiated various projects in Berlin (e.g., Eruption ). Moebius & Roelius continued with the Cluster concept and worked with Brian Eno of Roxy Music, and Hellmuth Hattler and Johannes "Alto" Pappert from Kraan , among others.

Discography:
Klopfzeichen 1970
Kluster Zwei Osterei 1971
Cluster 1971
Cluster II 1972
Zuckerzeit 1975
Sowisoso 1976
Cluster & Eno 1977
Lilienthal 1978
Durch die Wüste 1978
After the Heat 1978
---
Curly Curve
Members:
First line-up: Kurt Herkenberg bass, Hans "Hansi" Wallbaum drums, Alex Conti guitar, Chris Axel Klüver keyb, Heiner Pudelko vocals
on occasion they were augmented with a guitarist named Max, can't remember the last name.
Later: Hanno Bruhn vocals and bass, Martin Knaden guitar.
Still later without Hanno and with Leo Lehr, guitar. After 1976 the band became Interzone .
Mercilessly good German blues band of the sixties and seventies. Shared duties with Tangerine Dream and Agitation Free as house band in ZODIAC club in Berlin. Highest quota of dead members of any band in Berlin. Kurt Herkenberg (ex- Tangerine Dream ) was found dead on the Paul-Linke-Ufer in Berlin-Kreuzberg. Leo Lehr was run over by a truck, and Heiner Pudelko died in 1994;from cancer, it was said.
Hansi Wallbaum enjoys perfect health and has plenty of work as a studio and live drummer (among others with the German rock band Stoppock). Alex Conti joined Atlantis and later played with Lake . Chris Clüver can often be found playing the Berlin clubs, and Hanno Bruhn has become a successful songwriter and record producer.

Discographie:
LP´s und CD´s
Curly Curve Curly Curve 1973 , later released as CD 1994
Forgotten Tapes Curly Curve 1981
---
Karthago - German rock band under the direction of guitarist and singer Joey Albrecht. Konstantin "Conny" Bommarius drums (later replaced by Norbert "Panzer" Lehmann), Tommy Goldschmidt percussion, Gerald "Luciano" Hartwig bass (later replaced by Jethro Tull alumnus Glenn Cornick), Ingo Bishoff keyboards. Same management as Agitation Free, C & M Hudalla.
---
Gong - next to Magma, the most important French band of its time. Very abstruse musical compositions.
---
Kraan - important German rock band. Jan Friede drums, Hellmuth Hattler bass, Johannes "Alto" Pappert sax, Peter Wolbrand guitar, Management: Walter "Holzbeatle" Holzbauer. The band lived for a while in a warehouse in Wintrup, near Detmold, West Germany, and in Berlin. Often played together with Agitation Free at festivals and in jam sessions held at the rooms of the Berlin construction company "Ding Ausbau". Friends of Udo Arndt ( Os Mundi ) and I " Fame " (Agitation Free), often participated in parties with Agitation Free and Os Mundi members, as well as Manuel Göttsching ( Ash Ra ) and Hellmuth Hattler (Kraan).
---
Sopwith Camel - Burghard Rausch drums, Richard Clapton guitar and vocals, Michael Günther bass. Besides adaptations of Cream and Hendrix played almost entirely original compositions of Richard Clapton. Side project to Agitation Free, especially fun and worthwhile due to Richard's artistic guitar work.
---
Timewind - projekt started by Michael Hoenig and Klaus Schulze in 1974.
---
Can - Irmin Schmidt keyboards, Michael Karoli guitar, Holger Szukay bass, Jacky Liebezeit drums temporarely also Damo Suzuki vocal. Important German band; many film scores. Agitation Free met Can in April 1972 on the way to Egypt for the Near East tour; Can, too, was in the waiting lounge at Tempelhof Airport in Berlin, and a conversation ensued. A good contact was established, and later Agitation Free put Can in touch with their manager in France, Assaad Debs .
---
Metropolis - Manfred Opitz keyboards, Tom Hildebrand drums, Michael "Micki" Duwe vocals, Ute Kannenberg vocals, Michael Westphal bass, Helmut Binzer guitar. Good contact between members of Metropolis, Agitation Free, and Ash Ra Tempel has remained to this day. Metropolis recorded their LP "Metropolis" in Munich's "Studio 70" on the recommendation of Agitation Free, starting there about four weeks after Agitation Free completed "Second".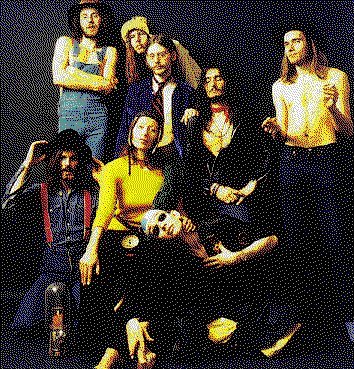 ---
Faust - a creation of a Hamburg manager,journalist and author by the name of Nettelbeck, intended to be the German answer to Grand Funk Railroad. Fortunately, despite much money invested, came to nothing.

But not so fortunately for Herr Nettelbeck! - Transl
---
Bel Ami - Berlin rock-pop band: Lutz Walzberg guitar, Georg Hülsmann guitar, Burghard Rausch drums, N.N. bass
---

---
Copyright (c) Agitation Free. All rights reserved.

Impressum / disclaimer